Chelsea Scheer-Kosowan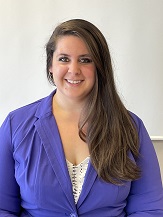 My start in the insurance industry is no crazy story, simply put, I needed a job. My first grown up job was in real estate, and it was not a fit for me so I found myself looking elsewhere. I had a significant amount of family that was involved in the insurance industry, so I decided why not give it a shot. I got my first job in the industry in 2017. I started doing basic autopac like most people. After tackling auto for a short period, I quickly transitioned into personal lines. While dealing with personal lines, I realized this was pretty interesting and started to develop a passion for the insurance industry. I started to take my CAIB and completed it successfully with honours in 2021. I now handle my own book of business which includes personal and commercial lines.
Within my day-to-day job, I enjoy helping people and providing protection to what is most important to them. My clients trust in the work that I am doing so I try my very best to provide them with proper guidance along the way.
Outside of work, I have a fury friend (cat) named Chuck at home that keeps me busy. Like most people, I enjoy hanging out with friends and family. I also like spending time outside and particularly enjoy hunting and fishing.