2024 IBAM Convention & Tradeshow
IBAM BROKERCON: Brokerpalooza
Lollapalooza defined:
"An extraordinary or unusual thing, person or event; an exceptional example or instance"
Brokerpalooza defined:
 "An extraordinary event to celebrate and connect the exceptional insurance industry in Manitoba"
---
Mark your Calendars for April 17 & 18 for IBAM BROKERCON 2024: Brokerpalooza!
Get ready for two full days of festivities at the 2024 IBAM Convention, hosted at the Fairmont Winnipeg. With insurance brokers and company representatives from across Canada, international speakers and world-class entertainment, this is an event you do not want to miss!
PLUS! Join in for a day of Pre-Convention events with the Graduate Awards Brunch and an Errors & Omissions seminar being hosted on April 16, 2023 (tickets sold separately).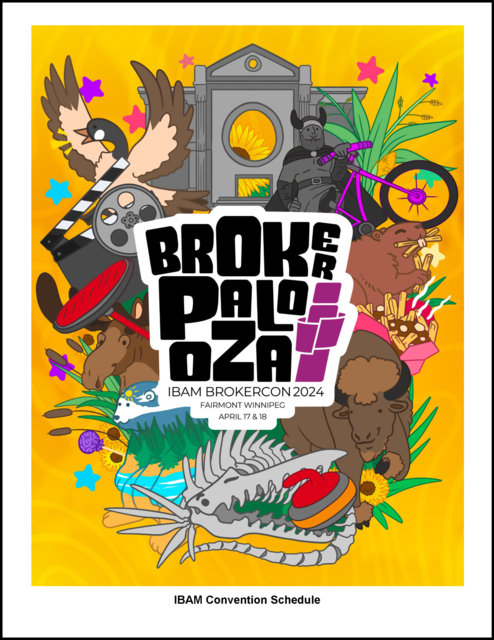 Click on the above image to see the new schedule
Details of the Days:
Tuesday is Pre-Convention Day and features the Graduate Awards Brunch in the morning and an Errors & Omissions (E&O) Mock Trial in the afternoon!
Tickets will be sold separately for each event. If you have a CAIB or CPIB Graduate being awarded their designation, or just want to support our awesome graduates, there are individual tickets or you can purchase a table of eight (8) seats to make it a company affair!
Wednesday & Thursday details TBA
---
To stay up-to-date on the event, check out the Spring edition of the Manitoba Insurance Broker (released in March 2024), follow us on social media: @IBAManitoba, or download the IBAM Convention App through the app store on your smart phone - to be released shortly!
We hope you can make it!
---
BONUS!
The first 50 individuals to purchase a Full Registration ticket have a chance to win a complimentary 3-night stay at the Fairmont Winnipeg during Convention.
---
Hotel Details:
Planning on staying at the Fairmont Winnipeg during Convention?
Click here for the IBAM rate.
If you have any questions, please contact the IBAM Office.
---
Registration to open in January 2024
---