2022 YBN-IBAM Dale Rempel Memorial Golf Tournament
in support of CancerCare Manitoba Foundation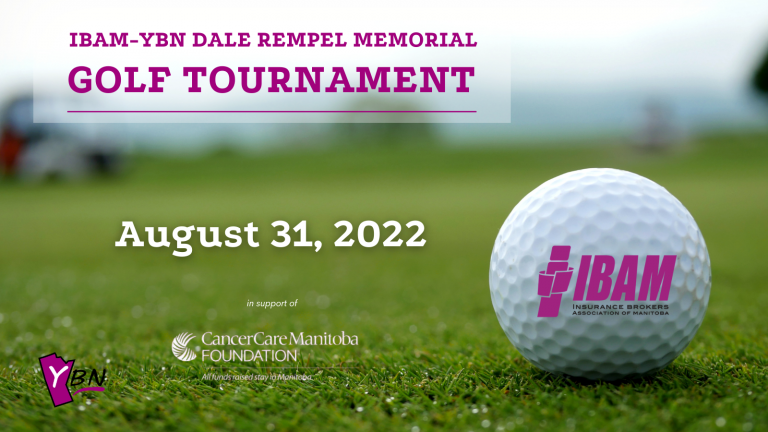 The Insurance Brokers Association of Manitoba IBAM-YBN Dale Rempel Memorial Golf Tournament was held on August 31, 2022 at the Quarry Oaks Golf Course in support of CancerCare Manitoba Foundation.
The tournament raised $20,000 for CancerCare Manitoba Foundation, with all funds raised staying in the Manitoba. Additional donations were made by Lynn Rempel and by ServiceMaster Restore. 
IBAM hosted an on-course Putting Green contest, sponsored by Manitoba Public Insurance, in support of Red Cross Ukraine Humanitarian Crisis Appeal. $1,390 was donated to Red Cross.
Special thanks to our Major Partners and Sponsors:
AVIVA Canada
BMO
CAA Insurance
FIRST Insurance Funding
Insurance Bureau of Canada (IBC)
Intact Insurance
Manitoba Blue Cross
Optiom
Optimum Insurance
Peace Hills General Insurance
Portage Mutual Insurance
Red River Mutual Insurance
Saskatchewan Mutual Insurance (SMI)
SGI CANADA
Swiss Re Corporate Solutions
Travelers Canada
Wawanesa Mutual Insurance
Wynward Insurance Group
Transportation Sponsor: Wawanesa Mutual Insurance
Putting Green and Cart Sponsor: Manitoba Public Insurance
First Drink Sponsor: Craig Kelman & Associates
Coffee Sponsor: April Canada
Water Sponsor: Priority Restoration
BARGA
Cansure
Centra Claims
Clarion Hotel
Dave's Quick Print
Denver Property Restoration
Fairmont Winnipeg
First On Site
Jones & Company
Milnco
MKA Canada Inc.
MLT Aikins
MREA
Mutual Fire Insurance
PAL Insurance Brokers
Paul Davis
Quarry Oaks Golf Course
ServiceMaster Restore
Shippam and Associates
Western Financial Group
Winnipeg Free Press
And more!
Thank you to everyone who came out and volunteered to support such a great cause. We cannot wait to see you again next year!
Check out some photos from the event on the IBAM Facebook page!