Miran Saradzic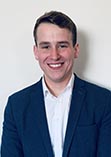 Miran is a dynamic, customer-centered sales professional with a passion for identifying and advocating for the insurance needs of clients. He is recognized as a Canadian Accredited Insurance Broker (CAIB) and is working on completing the Chartered Insurance Professional (CIP) program.
Currently serving as a Commercial Account Executive for The Standard Insurance Brokers, Miran proactively strives to deliver high-quality service to build relationships with clients and, more importantly, maintain those relationships by communicating effectively. In addition, Miran's honest and integrity-driven approach and commitment to first-class customer service help him stand out.
With Miran's family immigrating to Canada as war refugees from the former Yugoslavia in 1994, they instilled the need for hard work and perseverance. Not only have the lessons of his childhood led him to achieve great success, but they've also guided Miran to be recognized as a 2021 Rising Star by Insurance Business Canada.
Outside of work, Miran enjoys training in amateur boxing, traveling, and volunteering. He also enjoys spending time with his family, friends, and dogs.