2023 IBAM Convention & Tradeshow
April 17 - 19, 2023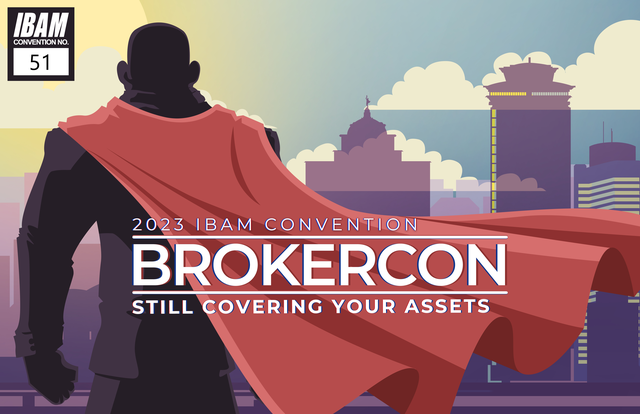 Are your Broker senses tingling once again?
IBAM Convention is back and registration is open! Check out tickets and timing below!
Up to 9.25 General CEC's to be earned*
---
This year's theme is BROKERCON: Still Covering Your Assets
Insurance Brokers are everyday heroes that help protect and serve their communities by offering expert advice and assistance before and after a disaster occurs.
Join us for the 2023 IBAM Convention at the Fairmont Winnipeg from April 17-19, 2023 (Monday-Wednesday). With insurance brokers and company representatives from across Canada, international speakers and awesome entertainment, this is an event you do not want to miss! Please see the Convention ticket types below.
This year's Convention is Monday – Wednesday and includes all of your favourite events and some changes!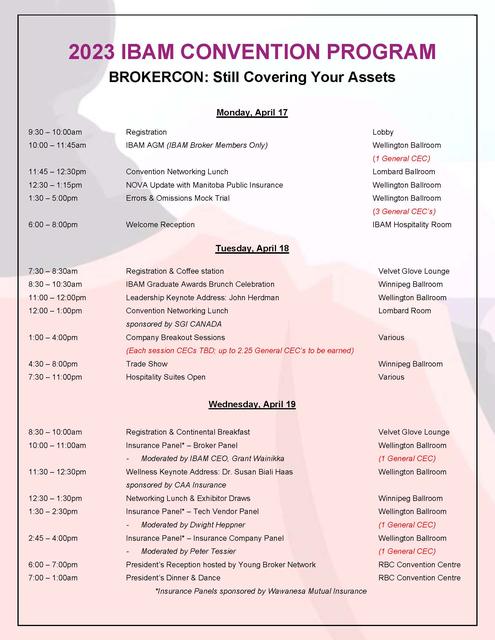 Monday is 'Members Day' and features a Members-Only AGM in the morning, followed by a Convention Delegate Lunch, a Partner Town Hall and our brought-back E&O Mock-Trial session in the afternoon!
IBAM AGM | IBAM Member Only Event | 10:00AM-11:45AM | Wellington Ballroom |

1 General CEC
Networking Lunch | 11:45AM-12:30PM | Lombard Room
NOVA Update with MPI | 12:30PM-1:15PM | Wellington Ballroom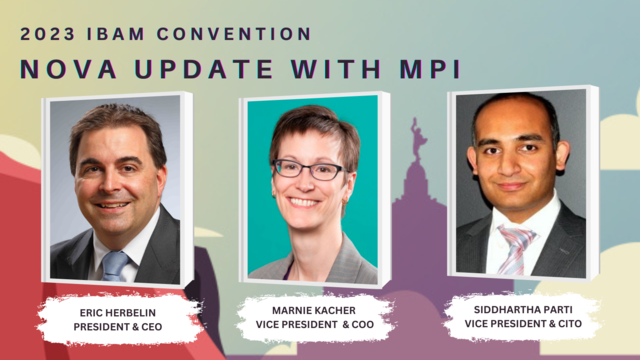 Roadmap to Enhanced Customer Experience
MPI is collaborating with brokers to enhance the customer experience through Project Nova, the largest business transformation in the corporation's history. Learn more about how brokers were involved with the first Nova release; the new platforms that were launched this year to modernize commercial insurance management; and how the corporation will continue to leverage these foundational platforms and collaborate with brokers to achieve our common goal of a better customer experience now, and through future Nova releases.
-- 
E&O Mock Trial | 1:30PM-5:00PM | Wellington Ballroom |
3 General CEC's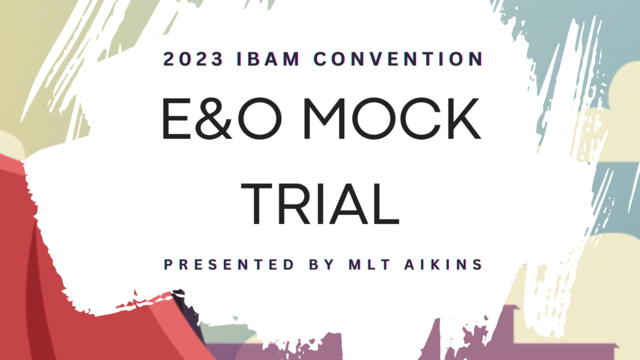 Always educational and entertaining, this session will show how a common situation in a brokerage can take a turn for the worse. Learn how to spot potential E&O situations, how to keep proper files, and hear from lawyers on current issues in the insurance marketplace.
By attending this informative session, you could also qualify your brokerage for a Loss Control Credit on your annual E&O policy with IBAM/Westport.
--
Tuesday will start with honouring our CAIB and CPIB graduates at the Annual Awards Brunch (New!), followed by a Keynote Address, given by John Herdman and a Convention Networking Lunch.
Congratulations to the 2022/2023 Graduates
CAIB Graduates with Honours

Vahinika Attaluri
Dwight Kinley
Cheryll Baquiano
Ge Song
Alena Direktorenko
Kelly Turner
CAIB Graduates

Jody Brennan 
Sherise Nowosad
Darla Capner
Kristi Page
Josephine Casidsid
Jaiminkumar Parekh
Laurie Friesen
Lukas Pazer
Xinyi Gao
Rosemary Poleshuk
Shelby Gauthier
Stephen Quesnel
Ryan Gawronsky
Kendra Reagh
Amy Gies
Sukhmani Romana 
Ameer Kashmiri
Sarah Rowan
Jaasmeen Kaur
Rachelle Schau
Hiren Khunt
Britney Schwab
Shaelene Kihn
Navjot Sharma
Jordan Klaassen
Jordan Shuttleworth
Jessica Lazaruk
Bailey Simner
Bing Li
Lucena Tagama
Yuxi Li
Christy Taronno
Yidan Lin
Barrett Thomson
Caitlin Martens
Ievgen Vazhkyi
Jennifer Martens 
Diane Veinot 
Courtney Mateychuk
Tracy Vestby
Chelsea McPhee
Mandeep Virk
Tracy Moore
Alvin Villanueva
Ningxin Yu
IBAM Award Winners
2022 CAIB Highest Mark – George E Wilson Award – Alena Direktorenko
2022 IBAM FOI Highest Mark Award – Shevaun Ward
-- 
Leadership Keynote Speaker: John Herdman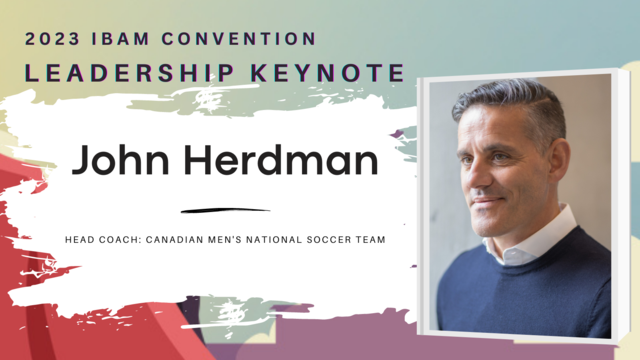 John Herdman | Head Coach, Canadian Men's National Soccer Team
Internationally renowned for his leadership philosophy, John Herdman is the first coach to qualify both a women's and men's national team for the World Cup. Throughout his career, he has coached at four FIFA World Cups, three Olympic Games, and two FIFA youth World Cups. In his riveting presentations, Herdman shares his proven performance philosophies, emphasizing the importance of vision, passion, and discipline in achieving success, whether it's on the field or in the office.
Herdman is currently the head coach of the Canadian men's national soccer team. He accepted the position in 2018 with the goal of transforming the struggling team into World Cup contenders. In 2022, Herdman made history as he led the men's national team to their first FIFA World Cup qualification since 1986. Along the way, his team earned their first top 30 FIFA ranking, was first in their CONCACAF WCUP qualification, and was the first team with a 17-game winning streak. The team also scored Canada's first ever goal at a men's FIFA World Cup.
Prior to coaching the men's team, Herdman was the head coach of the Canadian women's national soccer team. Under his leadership, the team won historic back-to-back bronze medals at the 2012 and 2016 Olympics — the first team to do so, male or female, at a Summer Olympics in over a century. They also won a gold medal at the Pan Am Games, the first in Canadian soccer history, and earned a top-six finish at the 2015 FIFA Women's World Cup.
Herdman has been credited with revolutionizing how soccer is organized and delivered through his award-winning "Whole of Football Plan". He developed this as New Zealand's director of football development and head coach of the New Zealand women's national football team. He coached the team from 2006-2011 with the team qualifying for the FIFA Women's World Cups in 2007 and 2011, and for the 2008 Beijing Olympics.
In 2017, Herdman won the Jack Donohue Coach of the Year Award. He is also the recipient of the 2016 CONCACAF Outstanding Achievement Award and the 2012 and 2016 Sport Canada Coaching Excellence Award. He is a three-time nominee for FIFA Coach of the Year and his teams were named the Canadian Team of the Year in 2016 and 2022.  
__
 Convention Networking Lunch | 12:00PM-1:00PM | Lombard Room | sponsored by SGI CANADA
The afternoon will host a scatter of Company Breakout Sessions and then the staple IBAM Tradeshow and Hospitality Suite Night kicks off at 4:30PM!
Company Breakout Topics |
1:00PM-3:50PM |
Earn up to 2.25 CEC's

| credits shown below
| | | | | |
| --- | --- | --- | --- | --- |
| Time | Room | Company | Topic | CEC Qualification |
| 1:00-1:50PM | Canterbury/Essex | Portage Mutual Insurance | The Connection Between The CGL & Professional Liability | 0.75 General CEC |
|   | Wellington Ballroom | Intact Insurance | Climate Toolkit: How You and Your Clients Can Reduce Physical Climate Risk | 0.75 General CEC |
| 2:00-2:50PM | Canterbury/Essex | Peace Hills Insurance | Take the Pain out of your Commercial Lines operations, with Quotey & Peace Hills | 0.75 General CEC |
|   | Wellington Ballroom | CAA Insurance | Marketing Basics for Insurance Marketing Growth | 0.75 General CEC |
|   | Lombard Room | SGI CANADA | Waste not, want not: How Change Impacts your Brokerage | 0.75 General CEC |
| 3:00-3:50PM | Lombard Room | Red River Mutual Insurance | Cyber Security Tips for Brokers  | 0.75 General CEC |
|   | Wellington Ballroom | Wawanesa Mutual Insurance | Wawanesa Life: Creating Value For Our P&C Partners  | Does not qualify for CECs |
1:00-1:50PM 
Portage Mutual Company Breakout | The Connection Between The CGL & Professional Liability
Does your client need a CGL and an E&O? Do you understand the caveats of the E&O marketplace and coverage attributes of the product? This is something that every commercial broker should have a base knowledge of. Join us for a fun, fast paced session where you will learn a ton.
Intact Insurance Company Breakout | Climate Toolkit: How You and Your Clients Can Reduce Physical Climate Risk
This presentation will focus on the manifestation of climate change as extreme weather and associated financial implications within Canada. The presentation will highlight standards and guidelines that have been developed to help insurance brokers and clients reduce the risk of flooding, wildfire and extreme heat.   
2:00-2:50PM
Peace Hills General Insurance Company Breakout | Take the Pain out of your Commercial Lines operations, with Quotey & Peace Hills
The Commercial Lines process is incredibly challenging for brokers, insurers and ultimately, the end customer. There are pain points at every step of the journey and every client requires a different approach.  Quotey has partnered with Peace Hills take on these challenges and transform the way that brokers support their commercial clients.
Speaker Nick Kidd will walk through the key steps of the process and demonstrate how…
You can digitally capture all the right information from your clients in order to go to market
Get multiple quotes in seconds including from Peace Hills
Quickly find the best value for your client and spot potential areas of risk in a quote
Initiate and track a broader process of going to market for more complex risks
Create beautiful client presentations at the click of a button
And more…
All of this is available for instant set-up, no minimum tie-in periods, for a low monthly subscription fee.
Learn more about the transformational impact that Quotey can have on your brokerage, and on its markets and customers.
CAA Insurance Company Breakout | Marketing Basics for Insurance Marketing Growth
As leading marketing experts in the insurance industry, CAA Insurance Company will offer an educational session to provide basic marketing knowledge for brokers to help build their businesses through marketing.
From the session, Brokers will be provided with the confidence and information needed to make the right decisions, while easily applying insights, learnings, and tools to their marketing strategies. Brokers will also walk away with the best practices and practical learnings that will allow them to rethink their strategy and take their marketing plans to the next level.
SGI CANADA Company Breakout | Waste not, want not: How Change Impacts your Brokerage
While insurance promises customers stability and peace of mind, those working in the industry often find themselves buffeted by winds of change.  Often, change is imposed upon brokers by the industry (ex. Insurance partner mergers or technology changes), the evolving economic landscape (the Great Resignation), environmental factors (Covid/Work from home, Next Gen expectations of a work/life balance) and occasionally it is voluntary (merging with another broker, updating their own software, changes to operational structure). Brokers will look at these "changes" and determine whether they feel the post-change results will have a positive or negative effect on their operations. We will demonstrate how workflow and process adjustments can assist brokers in defining and understanding the impacts resulting from these "changes" and how focusing on specific measurable Key Performance Indicators can lead you to turning these changes into measurable benefits for their business, improving daily business operations, and leading to greater customer and employee satisfaction.
3:00-3:50PM
Red River Mutual Insurance Company Breakout | Cyber Security tips for Brokers 
In a hectic business world of many competing priorities, a Broker needs practical advice on Cyber Security.  This presentation provides an overview of current cyber threats and discusses the capabilities (combinations of people, process, technology, and data) that a Broker can deploy to effectively manage the risk to the business, their partners, and customers.  The presenter conveys insights and recommendations from a broker perspective, using recent / relevant experience at two Manitoba based P&C insurance carriers.
Wawanesa Mutual Insurance Company Breakout | Wawanesa Life: Creating Value For Our P&C Partners
 This session will dive into opportunities for our P&C partners to deepen relationships with its clients by leveraging unique life insurance and employee group benefits solutions. 
-- 
Tradeshow Exhibitors | 4:30PM-8:00PM
| | | |
| --- | --- | --- |
| Accomsure | IFS Financial Services | ServiceMaster Restore of Winnipeg(RW Canada Ltd) |
| Afirm Solutions | Insurance Institute of Manitoba | SGI CANADA Insurance Services Ltd. |
| Allianz Global Assistance | Intact Public Entities | Shippam & Associates Inc. |
| Applied Systems Canada | IPFS Canada | Special Risk Insurance Managers Ltd. |
| April Canada Inc. | K & K Canada | SPG Canada |
| ARAG Legal Solutions | Manitoba Blue Cross | Staffmax |
| AVIVA Canada | Milnco Insurance | Stonemark Inc (Premium Finance Group) |
| Beck Glass Shield Inc | Onside Restoration | Strategic Underwriting Managers Inc. |
| Belfor Property Restoration | Optiom Inc. | Swiss Re Corporate Solutions |
| BMO Bank of Montreal | Pacific Marine Underwriting | Taycon Risk |
| CAA Insurance | PAL Insurance Brokers | The Mutual Fire Insurance Company of British Columbia |
| CAFO Inc | Paul Davis | Totten Insurance |
| ClaimsPro | Pinnacle Staffing Solutions Inc. | Trans Canada Insurance Marketing Inc. |
| Coalition | Portage Mutual Insurance Co. | Trufla Technology |
| Custom Software Solutions Inc. | Primaco | Unique Risks |
| First Insurance Funding of Canada | Priority Restoration | Vertafore Canada |
| FirstOnSite Restoration Limited | Puroclean Canada | Victor |
| Forward Insurance Managers | Quandri | Wawanesa Life |
| Four Points Insurance | Red River Mutual | Winmar Property Restoration |
| GMS Insurance Inc. | Sandbox Mutual Insurance | Wynward Insurance |
Hospitality Suites | 7:30PM-11:00PM
| | |
| --- | --- |
| Company | Suite |
| AVIVA Canada | Cambridge |
| SGI CANADA | Wellington |
| Peace Hills Insurance | Harrow/Essex/Canterbury |
| CAA Insurance | Velvet Glove |
| Travelers | York |
| Wawanesa Mutual Insurance | Lombard |
 --
Wednesday will again feature panels, however, there is a twist this year! The morning and first afternoon panel will feature new topics and faces – making them all can't-miss events! There will also be a second Keynote speaker who will speak on Mental Health & Wellness, featured below!:
IBAM Insurance Panel: Broker Panel | 10:00AM-11:00AM | Wellington Ballroom | 
1 General CEC

| sponsored by Wawanesa Mutual Insurance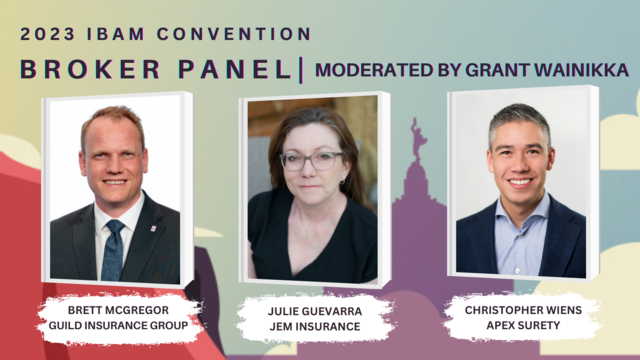 Wellness Keynote Speaker: Dr. Susan Biali Haas, M.D.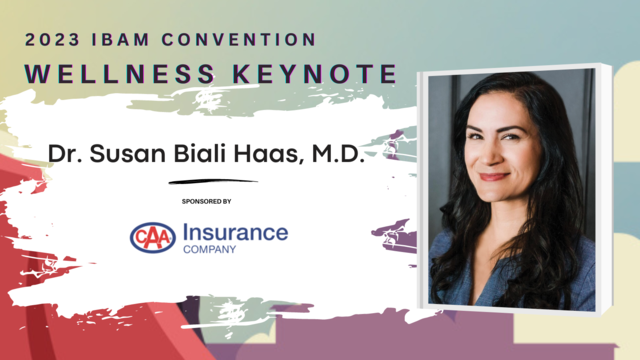 Dr. Susan Biali Haas, M.D. | Expert in Burnout Prevention, Stress Management, and Resilience | Mental Health Advocate
An award-winning medical doctor, Dr. Susan Biali Haas' life passion is to equip people with the knowledge, skills, and tools that will help them to enjoy optimal mental health, avoid burnout, and increase their resilience. Formerly clinically depressed and burned out, Biali Haas turned her life around by extensively studying how to overcome these two debilitating conditions. Today, she inspires a broad range of clients — from military leaders and senior executives to physicians and other healthcare professionals — to take control of their health and start living more impactful, meaningful lives.
As a physician, Biali Haas boasts 20 years of primary care experience, working in urban medical clinics. She also worked as a mental health clinician, counseling patients with anxiety and depression during the first year of the COVID-19 pandemic. In addition to her work as an executive coach, her long list of speaking clients includes the US Navy, Google, the Massachusetts Institute of Technology (MIT), McKinsey & Company, The Coca-Cola Company, and Deloitte.
Internationally recognized as a health and well-being influencer, Biali Haas is an in-demand expert for national and international media. She has been featured on The Today Show, Today with Hoda & Jenna, and BBC World Service, as well as Oprah.com, Forbes, Fast Company, The Chicago Tribune, The Washington Post, and The New York Post. She has also consulted as a coach for Cosmopolitan and was invited to speak about mental health on the Cosmo Happy Hour podcast.
A popular blogger for Psychology Today, Biali Haas' articles have attracted more than ten million views. In addition, she was invited to be a member of Chatelaine magazine's Health Advisory Board and was the "Embrace Life Expert" for Reader's Digest Best Health magazine. American Express recognized her as a "Real Life Potentialist", someone who has branched from traditional paths to reach their full potential through pursuit of their passions.
Biali Haas holds a Doctorate of Medicine and a Bachelor's of Science in Dietetics from the University of British Columbia, and has received numerous academic and personal awards. She is also the author of the bestselling book, The Resilient Life: Manage Stress, Prevent Burnout and Strengthen Your Mental and Physical Health.
__
Networking Lunch & Exhibitor Draw | 12:30PM-1:30PM | Winnipeg Ballroom
Insurance Panel: Tech Vendor Panel |  1:30PM-2:30PM | Wellington Ballroom | 
1 General CEC

| sponsored by Wawanesa Mutual Insurance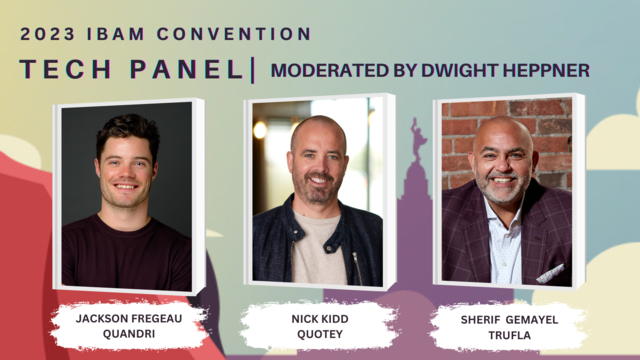 Insurance Panel: Insurance Company Panel |  2:45PM-4:00PM | Wellington Ballroom | 
1 General CEC
| sponsored by Wawanesa Mutual Insurance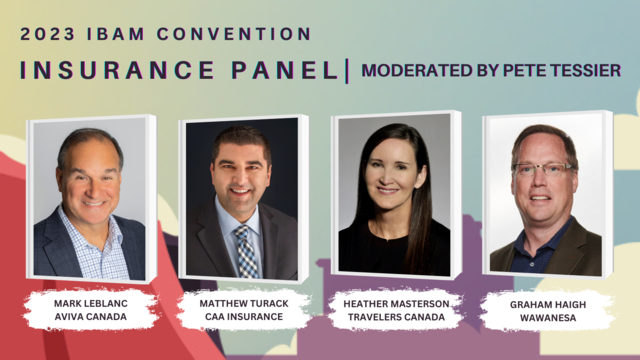 --
This amazing 3-day affair finishes with the President's Reception, Dinner & Dance at the RBC Convention Centre, with a fabulous meal and awesome entertainment!
To stay up-to-date on the event, check out the Spring edition of the Manitoba Insurance Broker (released in March 2023), follow us on social media: @IBAManitoba, or download the IBAM Convention App through the app store on your smart phone - to be released shortly!
We hope you can make it!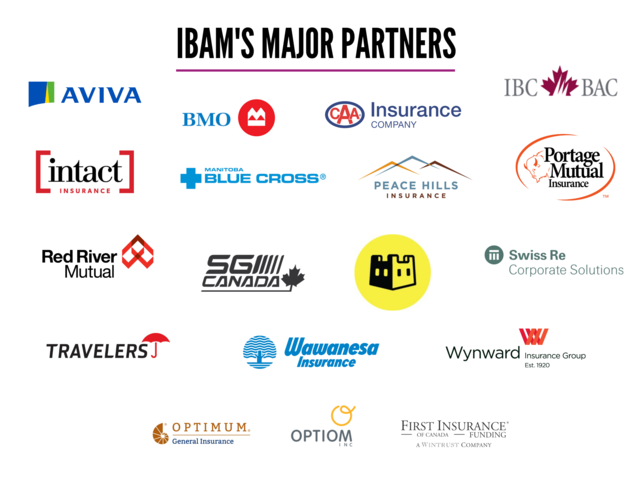 IBAM App Sponsor         IBAM Media Partner

___
Planning on staying at the Fairmont Winnipeg during Convention?
Click here for the IBAM rate.
___
Click here for registration instructions
___
**Please note that all registration totals are Pre-GST**
***All ticket sales are final after March 1, 2023.