Top Stories > BSI Staff with a hat trick of donations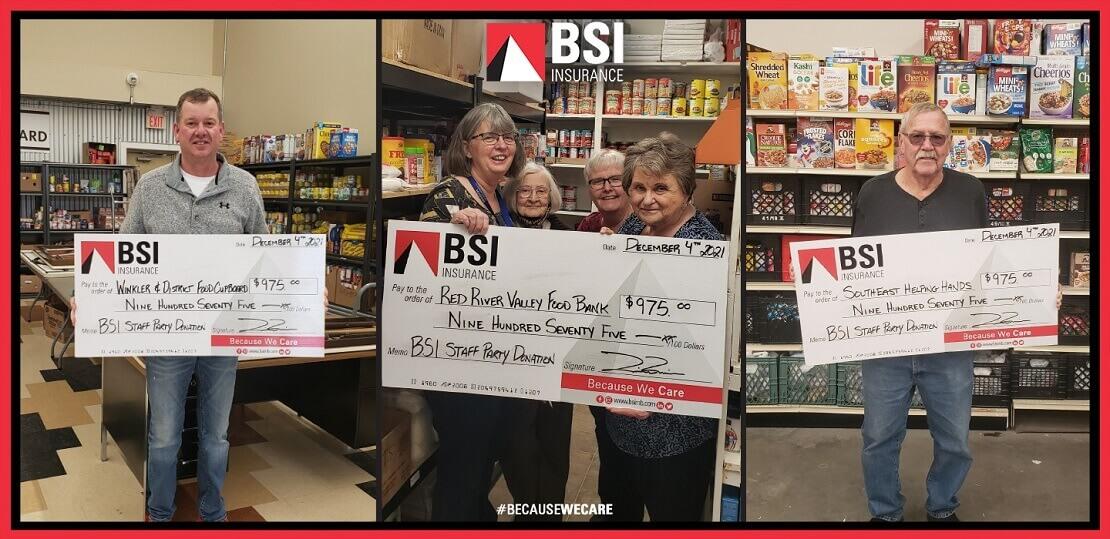 Pictures (L-R) – Milt Olfert (Winkler and District Food Cupboard), The wonderful crew at Red River Food Bank (Red River Food Bank), Hank Klassen (South East Helping Hands)
Manitoba – BSI Staff with a hat trick of donations!
It's the season for giving (if you can) and every year, BSI Insurance puts out a call to action asking their staff to donate towards a pre-selected charity chosen by the BSI social committee. This year, BSI's generous staff chipped in a total of $1,462.50, and Because We Care, BSI Insurance matched every dollar donated. The $2,925 was then divided among the 3 selected food banks in each of their regions:
Western: Winkler and District Food Cupboard
Central: Red River Food Bank
Eastern: South East Helping Hands
BSI visited each location to present the wonderful people who were working the food banks and they all expressed their gratitude. Every donation, every tin, every volunteer hour counts and helps make someone's life a bit easier, especially during these difficult times.
BSI Insurance encourages everyone who can donate to their local food bank. Their communities are better when everyone works together. Happy Holidays from the BSI team!
About Because We Care – Because we care about our customers, employees, and the communities we operate in, we created the Because We Care Initiative. Through this initiative, we donate roughly $25,000 annually to communities we operate in and around. This initiative allows us to contribute to individual and community causes as well as larger community projects.
About BSI Insurance – BSI Insurance was founded in Manitoba in the early '60s. Our consistent dedication to customer service has allowed us to grow 16 brokerages strong across Southern Manitoba. As a broker, our main priority is providing insurance products and services that give our customers choice, convenience, and customizable coverage.
For the original story, please click here.