IBAM – Intact Insurance Flood Protection Awareness Campaign
Flood season is here and IBAM and Intact Insurance have partnered to promote different ways to keep your homes and businesses safe from water damage. These tips are good to share with your clients about flood risks, as well as some Spring maintenance tips to consider now that the snow has melted.
Home Flood Protection Tips
In this section, use the below infographics to help educate your customers on ways to protect and maintain their houses to help prevent water damage.
Tip 1: DIY Maintenance that costs $0

Do-it-yourself for nothing and maintain what you've got at least twice a year. It's simple and cheap – just needs a little sweat equity:
1) Remove debris from nearest storm drain or ditch and culvert.
2) Clean out eavestroughs.
3) Check for leaks in plumbing, fixtures and appliances.
4) Test your sump pump.
5) Clean out your backwater valve.
Tip 2: Simple Upgrades (that can be done for under $250)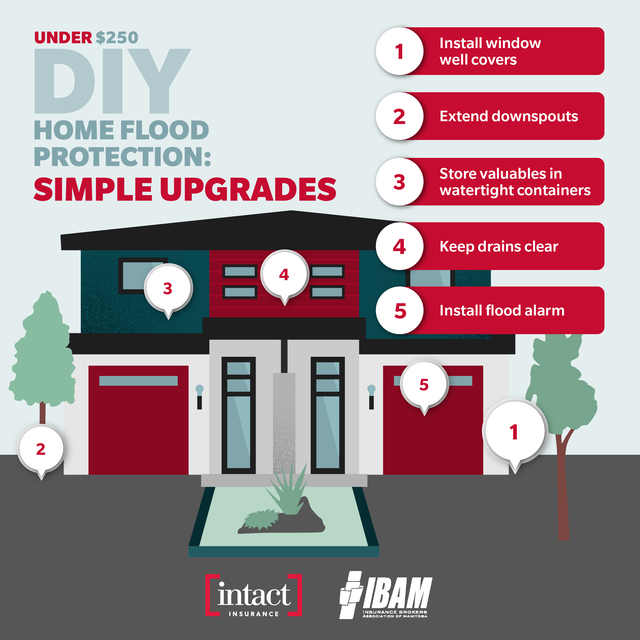 Do-it-yourself for under $250 and complete simple upgrades:
1) Install window well covers.
2) Extend downspouts and sump discharge pipes at least two metres from foundation.
3) Store valuables and hazardous materials in watertight containers (and remember to secure fuel tanks).
4) Remove obstructions to drains.
5) Install and maintain flood alarm.
For more tips, click here
Tip 3: Work with a Contractor on more complex upgrades to your home.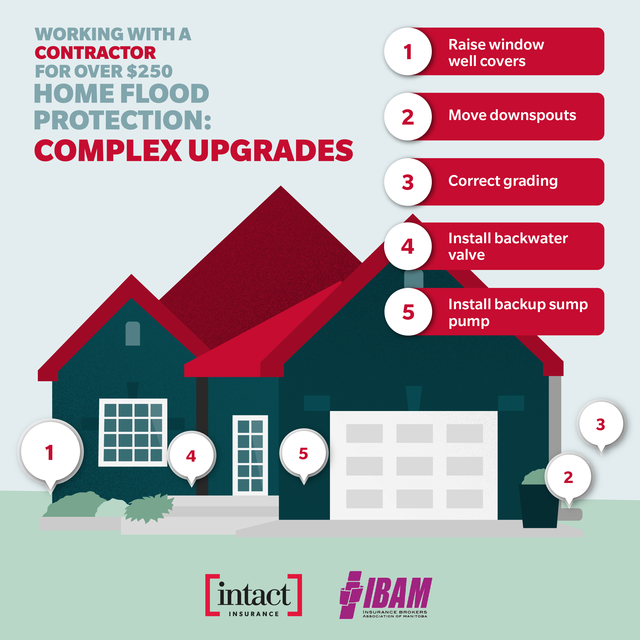 Work with a contractor (the investment is worth it!) to complete more complex upgrades:
1) Install window wells that sit 10-15 cm above ground and upgrade to water resistant windows.
2) Disconnect downspouts, cap foundation drains and extend downspouts to direct water at least two metres from foundation.
3) Correct grading to direct water at least two metres away from foundation.
4) Install backwater valve.
5) Install backup sump pump and battery.
Visit the Intact Client Centre of Adaptation for more tips.
Commercial Flood Protection Tips
Flood resilience starts with a plan! Help businesses protect their commercial real estate during flood season by reminding them to have an emergency plan for a flood event that includes knowing how they'll communicate with stakeholders and having off-site access to their insurance documentation!
Flood resilience also means having the right equipment and supplies! Help businesses protect their business by reminding them to stock up on critical supplies, from sandbags to portable generators and emergency lighting.
Finally, flood resilience means being proactive! Advising your clients to consider getting flood-proof critical equipment, secure server rooms and high-voltage areas and invest in electrical panel upgrades are other ways to help businesses protect their commercial property.
For more information, please click here.