IBAM News & Events
The Insurance Brokers Association of Manitoba serves as the voice of the insurance brokerage industry and proudly promotes its members as the premier distributors of insurance products and services in Manitoba. Through this promotion and advocacy, we've created a network of trust and community.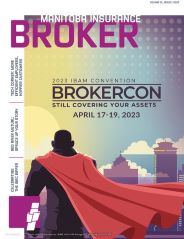 Spring 2023 – What's Inside
The MANITOBA INSURANCE BROKER is published four times per year by Craig Kelman & Associates Ltd. on behalf of the Insurance Brokers Association of Manitoba.
Celebrating the IBAC Bipper
IBAM Convention: BROKERCON
Congrats to our Grads
Red River Mutual: Spruce Up Your Story
CAA Insurance: Extension Coverage Offerings
Tech Corner: More Efficient Employees, Happier Customers
..and more!
---
Past Events
Dec 1, 2022

2022 National Safe Driving Week

Nov 24, 2022

BSI supports WASA by donating funds for new jerseys

After a cancelled season in 2020 and half of our normal registrations in 2021, WASA was excited to have over 500 children registered for our fall program in 2022.  WASA was looking for community partners...

Nov 24, 2022

JEM Sponsors BVRA 2022 Pre Season Tournament

JEM was a sponsor for the BVRA(Bonivital Ringette Association) 2022 Pre season Tournament. All the money raised by this tournament goes towards program development, coach training, team equipment and much...

Dec 20, 2021

BSI Staff with a hat trick of donations

Manitoba – BSI Staff with a hat trick of donations! It's the season for giving (if you can) and every year, BSI Insurance puts out a call to action asking their staff to donate towards a pre-selected...